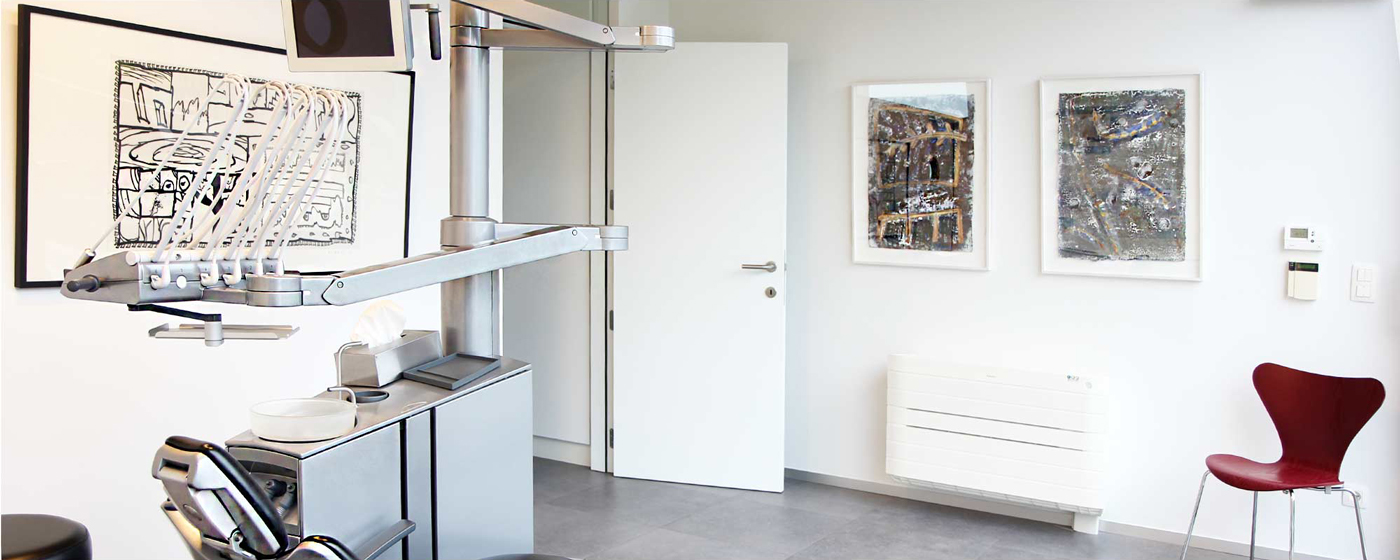 Periodontology and Implantology Centre
Where?
At first glance, our modern facilities look more like a contemporary home than a medical centre. We have done this deliberately:
Our pleasant, bright waiting area offers you the privacy you want,
It is where you wait in quiet comfort for your consultation or treatment.
We will do everything we can to see you at the agreed time for your appointment. Simply come to the reception desk and we will escort you to one of the fresh consultation rooms.
We pay a great deal of attention to our practice, where we apply the highest standards in hygiene and sterility. Because it is such a pleasant environment, we are able to work to optimum effect and you can feel at your ease
When?
You come to us after being referred by your dentist, with whom we work as a team. We also involve your dentist in the scheduling and implementation of specific treatments.
As our patient, you always come first. Working with you and your dentist, we look for the solution that is most suited to your particular set of teeth.
You can also consult us without a referral. In that case, we will assist you in looking for a dentist who can help you in the appropriate way.
What and how?
We offer you top-quality, innovative treatments and always keep track of the latest developments in our field. This can be seen from:
more than 40 scientific articles published in international professional journals,
requests from the editors of international journals such as "Clinical Oral Implants Research, Clinical Implant Dentistry and Related Research" and "Journal of Oral Rehabilitation" to review scientific research articles written by the specialists who work with us.
At our practice, we don't start using the very latest equipment and techniques until they have demonstrated that they are clinically and scientifically sound.